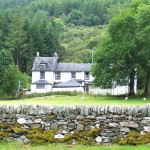 The Colintraive and Glendaruel Development Trust is delighted to announce it has been granted a community right to buy on the Glendaruel Hotel under the terms of the Land Reform (Scotland) Act 2003. The hotel which stands at the centre of the clachan of Glendaruel has been closed for 18 months depriving the community of an essential social hub and local accommodation providers of a venue for their guests to find food and drink locally.
In June 2009 when it first considered applying for the right to buy on the property the trust undertook to give the present owners of the hotel breathing space to get their business up and running. Twelve months later the Trust recognised that this was becoming more and more unlikely to happen, and that the community needed the opportunity to take charge of the building and provide for its own future. At a public meeting on 3rd August last year a working group was formed to look at the options for running the building as a social enterprise and to work toward the Community Right to Buy.
The right to buy, which gives the community first refusal when and if the hotel comes on to the market, also requires that a ballot be held to ascertain the community's opinion of such a course of action. As Charles Dixon-Spain, chair of the Development Trust says, "With the help of the working group who have put substantial time into this project, and our HIE-funded consultant Tom Sillar, we have secured the community the opportunity to decide whether it wants the trust to run the building as a social enterprise."
Full details of the application for the right to buy are available on the Register of Community Interests in Land.